Welcome :Trailwood Lake
www.trailwood-lake-bagdad.com
This is a private recreational commuinty located in Bagdad Kentucky onTrailwood Lake

There are lots for sale in our private community if you want the best in fishing and camping you can contact WH Brown at
whbrownpelpls@aol.com or check out the

For Sale

link.

Trailwood lake is stocked with bass, panfish, and catfish. The lake provides a very quiet and pristine environment of natural beauty.
N
​​Keys Remotes and Shirts can bought from Ransom Maddox or Carol Clemons at Trailwood. Call or email Ransom or Carol if you want to buy Keys, Remotes or Shirts to see when they will be at Trailwood.

We have a few new members at Trailwood this year welcome to all new members.

​​

Note: The method for taking bids or volunteers to do the work is being updated. Or goal is to keep lot owners informed as much as possible. We will use this web site and the bulletin board to post Trailwood information.



Since we only meet one time a year please use this web site or the suggestion box located at the entrance building if you think of questions you may have, or to express concerns. Note: Lot owners can email board members with suggestions or concerns.

​Thanks Board Of Directors
Board Members ​:
Board Member
Carol Clemons 859 321 4981.. cjcjuna123@aol.com​
Website administrator

.
Ken Augustine. 502 802 1310. (kaugie2@yahoo.com)

Board Membe
r
​Aron Hulett
Board Member

Nate Jones
​
Board Member
Hollie Parker 502 803 6079
​
Board Member

Missy Simon
​​​Click camera for photos
Click for sale sign for postings. You can post items using this link
Annual Fundraiser Saturday June 18th at 3pm at Pam Browns place.... Bring a prize for gift table and your favorite side! We could also use cakes for the cake wheel! We will have cake wheel, poker lay down, and other games! There will be karaoke and musical guest!! Hope to see you there.


​
​​Trailwood Lake Lot Owners Association annual Meeting was held on Saturday, May 21, 2016 at 10:00 am. New board members were elected. The meeting minutes will be posted as soon as I get time to type them up. Sorry, but I have been sick for several days.
Your 2016 dues will increase by $10.00 each year for five years. 2016 dues are $120.00
*A copy of meeting minutes and the 2015 financial report will be posted in guard shack after May meeting for those who cannot attend. Upcoming Events! –
• Annual Picnic is planned for JUNE 18TH 3:00 pm - ?
• Fireworks and July 4th celebration will be listed on the web site. Thank you!
We have had several members offer their time and expertise to maintain and improve Trailwood free of charge by providing lawn care, roadwork, repairs and clean up. This has enabled us to cut camp expenses and use funds for other costly needs such as the hillside rebuild, more gravel and the new gate. There will be postings in the guard shack at camp of ongoing jobs that need to be done if you'd like to help out. A list of current Trailwood Lake Board of Directors is on this site.
Keep up to date on campground information at our website:

Questions, suggestions or comments
Bass Fishing Tournament
Saturday June 11, 2016. 8:00am to 1:00pm.
$10.00 per person, 2 person per boat.
5 fish limit. ​​​100% payout.
​This is a catch and release tournment.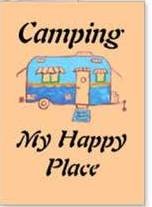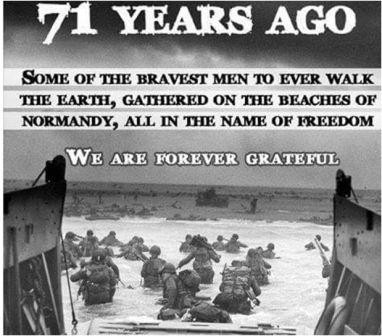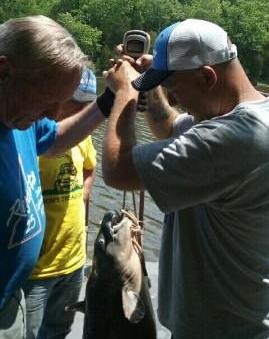 Tony caught 40.2 lb. cat on 6 lb line.
Jackson & Joe, Tony & his catch.